Welcome to My Beads, the home of beautiful gemstone beads!
Thanks very much for stopping by! My Beads is an Australian online and retail bead store based in Brisbane, specialising in semi-precious gemstone beads – as well as other natural beads such as freshwater pearls, wood beads and shell. We believe it's our solid reputation that has allowed us to grow and continue in this wonderful world of beading since 2003! We pride ourselves on our quality, wholesale prices and friendly customer service. Your satisfaction with your experience with us is our number one priority!
Online Bead Store
It's very easy to shop online with us. Simply sign up for an account, and start adding goodies to your shopping cart. By joining, you can save your cart to come back to later and view your previous orders. However, if you're just after a one off order you can also submit it as a guest without signing up.
We package each and every order very carefully and post out five days a week with Australia Post. We also offer free shipping for orders over $50!
Retail Store in Brisbane
Our store is located in Brisbane, in the beautiful sunny bayside suburb of Sandgate. To keep things as fair as possible, the prices in store are the same as on the website. The store has the same range as the website, too. However some online specials and close-outs may not be available in store. We also offer beading class, which you can see by Clicking Here!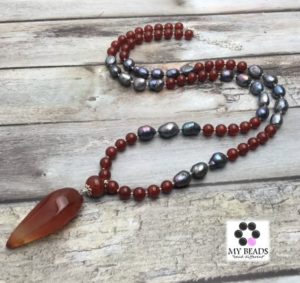 From day one, we have specialised in beautiful semi precious gemstone beads. There is something magical about wearing a stone that has come from the earth and is millions of years old. We have since expanded to stock a wide range of other natural beads, including freshwater pearls, wooden beads, mother of pearl and coral beads. In addition we find there to be something extra special about handmade glass lampwork beads, and something strangely sensual about ceramic beads.
Of course we endeavour to bring you all the other necessities to create your amazing gemstone jewellery designs including findings, a wide range of pewter beads, thousands of different types of glass and crystal beads and of course the tools to put it altogether! So from the team at My Beads, we implore you – don't be part of the crowd…
Bead Different!